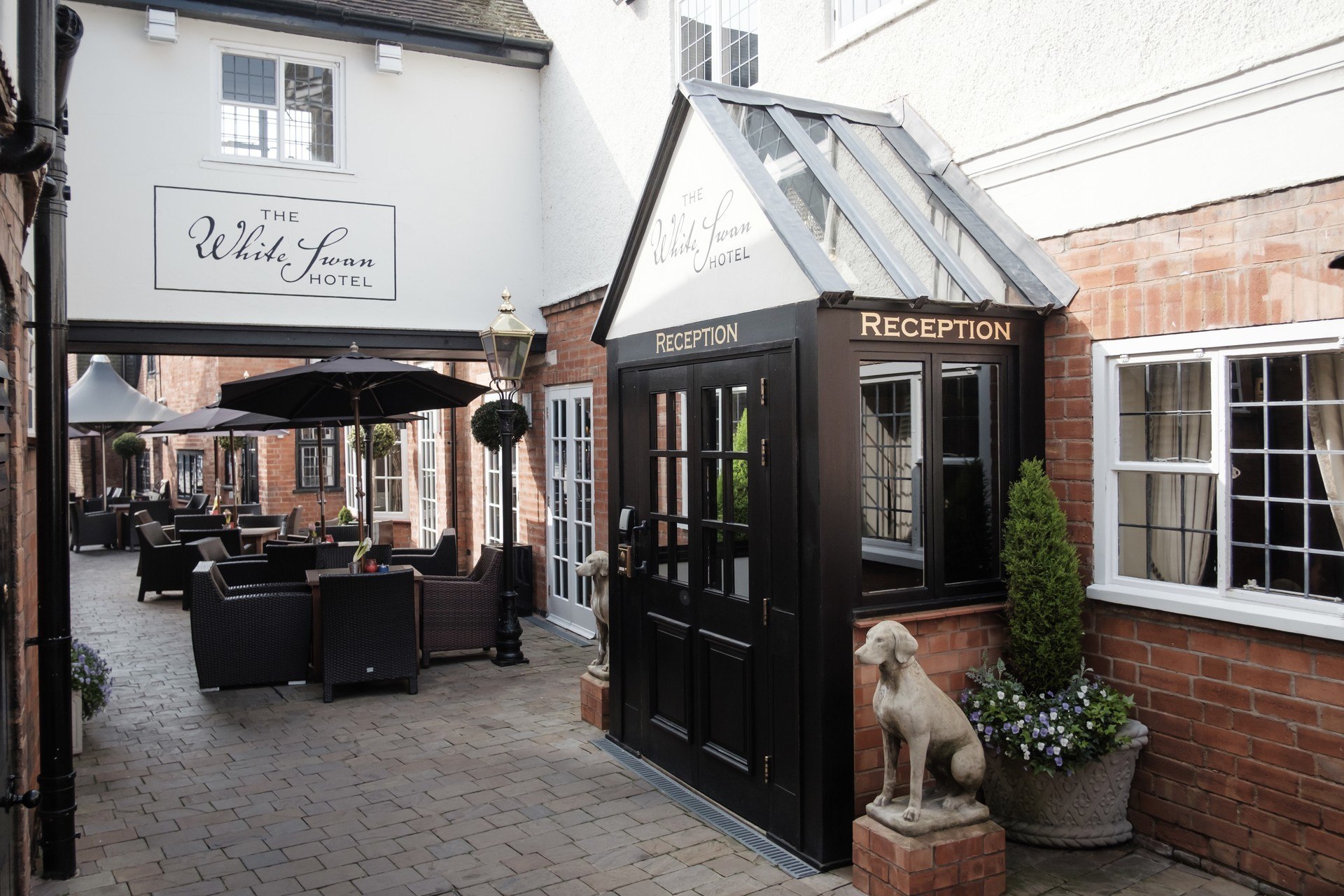 About Us
The White Swan Hotel building dates back to 1450, and is one of Stratford's most historic hotels. Passing our majestic timbered façade feels like stepping into history, thanks to our beautifully appointed bar and dining room.
Oak panelling, a roaring open fire and original features throughout make any stay at The White Swan Hotel a unique and memorable experience. Add to that our delicious food made by dedicated chefs, fantastic drink offerings from our cellars, and a warm Fuller's welcome, and you've discovered a true gem in the town where Shakespeare was born and buried.
Eating and drinking
From crispy pastries, mouthwatering pasta and roast dinners, eating at The White Swan Hotel is an unforgettable experience. We'll always have new recipes for you to try, but also understand that often, you just want to enjoy some traditional pub food done exceptionally well.
As well as an extensive main menu, we offer Sunday roasts with all the trimmings and hearty sandwiches for a quick lunch that will refresh you for an afternoon of sightseeing. Our bar is also fully stocked with drinks to refresh you – join us to enjoy an exclusive seasonal ale, a drop of cider, premium spirits, or a bottle of wine from our extensive selection, all sipped in splendid surroundings.
If you're celebrating, we pride ourselves in offering some of the finest function rooms in Stratford-upon-Avon. Ideal for wedding receptions, mini-conferences or parties, space is flexible, with room for up to 70 guests. If you're hosting a more intimate gathering for under 20 people, we have the perfect spot for you adjacent to the bar.
Whatever your numbers, your choice of food and drink will be catered for by our highly trained staff, to ensure your event goes smoothly.
Stay at The White Swan Hotel
If you're looking for a boutique hotel in Stratford, our Beautiful Bedrooms by Fuller's are carefully designed to ensure a luxurious, peaceful stay. The lighting, wall art and interior design come in different choices to suit your preferences, and our Character rooms offer something really very special.
Whichever of our 41 unique bedrooms you choose, each offers free, fast WiFi, enchanting original paintings and intricate wood carvings that will have you wondering if Shakespeare himself found his muse for Romeo and Juliet here.
The Egyptian cotton linen sheets ensure you sleep oh-so-comfortably after a day of exploring, plus each room comes with breakfast included, an iron and ironing board, flat-screen TV and hairdryer. Bramley toiletries and coffee and tea facilities are also at your disposal – and of course with some of our room types, we offer fluffy robes and slippers for ultimate relaxation…
Book direct with us today, and you can also take advantage of our Best Price Guarantee – and when you book a unique Stratford Race Day package with us, you'll get two free tickets to Stratford-On-Avon racecourse and a £15 voucher for the same price as a standard one-night stay.